Una to Kinnaur Taxi Service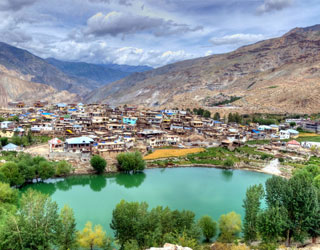 There are many ways to go from Una to Kinnaur. The most comfortable and speediest option is to get a outstation taxi rental. One way distance form  Una to Kinnaur is approximately 396.6 Kms by road. Una to Kinnaur One Way Car Hire Tariff, Book a cab online, Sharma Tour & Travels Una is well renowned taxi provider in una-himachal pradesh. Best Deals on your cab booking, Online Car Rental from  Una to Kinnaur, Hire taxi for full day Family trip, book Una To Kinnaur cabs online and Hire budget taxi from Una To Kinnaur.
Sharma Tour and Travels is a leading taxi proivider in Una. Book Kinnaur Taxi Service from una railway station. Cars on rental in Una, Himachal.
About Kinnaur

Kinnaur, also known as "Land of god" is about 235 Km from Shimla and is known for its serenity and beauty of the lush green and rocky mountainscape having Satluj, Baspa and Spiti river snaking through it.
A brotherly fusion of Hinduism and Buddhism at one place reflects the existence of a culture of a different sort which is well preserved by its people in this era of modernization. Hindus visit Kinnaur to see the famous Kinner Kailash, believed to be the home of Lord Shiva and the Shivaling rocks, the stories of Pandavas and their link with Kinnaur is a great attraction.

There are also old Buddhist monasteries and temples in the vicinity which hold special importance and are revered by Buddhists. Apart from religion, Kinnaur also has a large scope in adventure sports like trekking and skiing. There are about nine known routes for trekking and some which are five days or six-day trips. Kinnaur is well known for its delicious apples, Chilgoza, handlooms and handicrafts materials. Slight traces of modernization can be seen in the town, its cultures and people but the area continue to be pristine, simple and magnificently beautiful.